Tired of dealing with awful acne breakouts and having to hide your skin using makeup and other products? Well, you might want to give the Exposed Skin Care Acne Treatment System a shot! We got our hands on one of these kits and tried it out for ourselves. Below is our full experience compared to other Exposed Skin Care reviews that we also read up on. We are including an overview of the products you get with it, the ingredients each component is made up of, and more.
Exposed Skin Care Acne System Review
Exposed is somewhat of an underdog company when it comes to acne products. We're all used to hearing about and seeing acne kits from big brands such as Obagi, Proactiv, and Neutrogena thanks to big advertising budgets, but some of these smaller companies really pack more punch and are generally a better option.
Exposed Skincare is one of those brands. It's a relatively smaller skincare company, but they have high-quality products that are designed to eliminate acne bacteria, unclog pores, manage your skin's oil production, and significantly reduce redness & inflammation.
Related Acne Treatment System: Obagi Clenziderm MD System – Product Overview and Reviews
Tried so many different acne treatments, majority of the dried my skin and it was peeling off. Combination of these products keep my skin clear, no peeling. Using it for over a year now. (Viktoriya –  Amazon Review)

So far it has been about a month and seems to be working a tiny bit but has not by any means cleared my son's face up. Willing to give it a bit longer but will switch to Proactive if not working better in a few weeks. (Maui – Amazon Review)
Exposed Skin Care Moisturizing Acne Treatment System (60 Day) 6 Piece Expanded Kit Hydrates, Heals and Prevents Acne Prone Skin – Includes Our Moisture Complex
HIGHEST QUALITY TEEN & ADULT ACNE TREATMENT KIT: The Exposed System spends 100% MORE on the quality of our ingredients compared to even the most well-known acne routines. Exposed only uses SPA QUALITY Acne Fighting Ingredients and is formulated to make your daily skin care routine something you look forward to.
EASY MONEY BACK: Sometimes it's difficult to find an Acne Treatment System that works for you. Exposed offers the Easiest Money Back Guarantee in the Skin Care Industry. Give us 60 days and WE WILL give you clearer, more radiant skin or your money back / You have nothing to lose but your acne.
IMPORTANT: Our Acne Treatment Products Must Purge Your Skin of Acne Causing Toxins Before the Power of Science & Nature can Heal and Return your skin to its natural radiance.
SAFEST ACNE TREATMENT KIT: The Exposed Acne Treatment Kits do not overpower your skin like many products. We use a soothing blend of natural ingredients to heal and calm skin while clearing up your acne.
SCIENCE + NATURE = FAST RESULTS: The exclusive combination of SCIENCE + NATURE found in Exposed gives you clearer, smoother skin
How the Products Work
Depending on which kit you purchase from Exposed you'll get a variety of different products. Each one is designed to execute a specific task. Below we've provided a summary of what each product does, what ingredients are found in them, and more.
Facial Cleanser
The facial cleanser is the first, and possibly the most important, step in the system. This product makes uses of a powerful formula consisting of hydroxy acids and sage extracts to get rid of oil and dirt on your face. It also makes it way into your pores and destroys the nasty bacteria within your skin that is often the primary cause of acne.
Ingredients
: Purified water, cocamidopropyl, betaine, sodium olefin sulfonate, acrylate copolymer, triethanolamine, propylene glycol, polyquaternium-7, panthenol, phenoxyethanol, disodium EDTA, fragrance oil, sage leaf extract, citric acid.
Clearing Tonic
The clearing tonic is another important tool in the Exposed acne kit that does a number of jobs including clearing clogged pores, healing the skin, normalizing skin cell turnover, and reducing inflammation using a combination of various plant extracts, acids, and more.
Ingredients
: Salicylic acid (1.0%), purified water, glycolic acid, propylene glycol, witch hazel, dimethylethanolamine, phenoxyethanol, sodium hydroxide, green tea extract, passion flower extract, aloe leaf extract, sage leaf extract, fragrance oils.
Acne Treatment Serum
The acne treatment serum is found in all of Exposed Skin Care's kits and is the key component in fighting acne. This targeted treatment effectively kills off acne-causing bacteria while at the same time healing and protecting the skin from future damage and breakouts. This serum prevents new blemishes and whiteheads from developing.

Ingredients
: Benzoyl Peroxide (3.5%), water, glycerin, propanediol, carbomer, green tea extract, tea tree leaf oil, phenoxyethanol, ethylhexylglycerin, disodium EDTA, sodium hydroxide.
Want to know more about the other products that Exposed carries and puts in their larger acne kits? Visit the official website for further details.
Exposed Skin Care Kits
For those of you that are unfamiliar with the brand, Exposed products can be purchased individually, but they are much more effective and cost-efficient when you buy them together in one of the kits that the company offers.
Basic
The Basic kit is a 5-piece set that includes:
Facial Cleanser
Clearing Tonic
Acne Treatment Serum
Clear Pore Serum
Derm-X Cloth
This is perfect for mild to moderate cases. The kit includes enough of each product to last you a total of 60 days and it also comes with a free Exposed membership.
Expanded
The Expanded acne kit is the most popular option and comes with 6 products. This package includes everything found in the basic kit plus the Moisture Complex product.
Ultimate
The Ultimate kit is a much larger package that comes with a total of 9 different products. This includes everything from both the basic and expanded kits plus full sizes of Microderm Scrub, Clarifying Mask, and Probiotic Complex.
Want to Try it Yourself?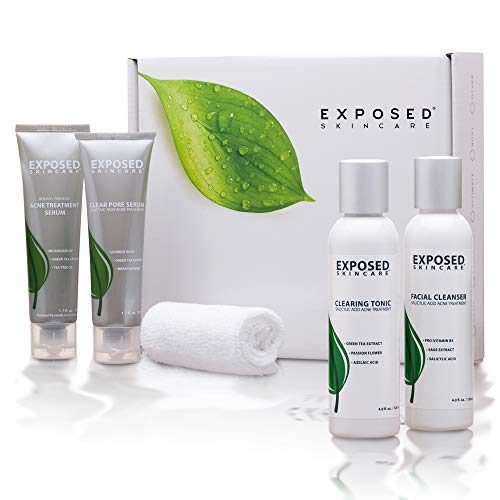 Exposed Skin Care Acne Treatment System (60 Day) 5 Piece Basic Kit Heals and Prevents Teen/Adult Breakouts with Benzoyl Peroxide 3.5%, Salicylic Acid and Healthy Natural Extracts
HIGHEST QUALITY TEEN & ADULT ACNE TREATMENT KIT: The Exposed System spends 100% MORE on the quality of our ingredients compared to even the most well-known acne routines. Exposed only uses SPA QUALITY Acne Fighting Ingredients and is formulated to make your daily skin care routine something you look forward to.
EASY MONEY BACK: Sometimes it's difficult to find an Acne Treatment System that works for you. Exposed offers the Easiest Money Back Guarantee in the Skin Care Industry. Give us 60 days and WE WILL give you clearer, more radiant skin or your money back / You have nothing to lose but your acne.
IMPORTANT: Our Acne Treatment Products Must Purge Your Skin of Acne Causing Toxins Before the Power of Science & Nature can Heal and Return your skin to its natural radiance.
SAFEST ACNE TREATMENT KIT: The Exposed Acne Treatment Kits do not overpower your skin like many products. We use a soothing blend of natural ingredients to heal and calm skin while clearing up your acne.
SCIENCE + NATURE = FAST RESULTS: The exclusive combination of SCIENCE + NATURE found in Exposed gives you clearer, smoother skin