[NeoStrata is a well-known brand of 
skin care products
 that are popular and, in several cases, are even dermatologist recommended. They are also the company behind the high-demand Exuviance line of cosmetics. Overall, NeoStrata products are best known for being highly effective and moderately priced. The company produces a cosmetic for lightening up dark spots called the 
NeoStrata HQ Skin Lightening Gel
.
About the Product
NeoStrata's HQ Skin Lightening Gel is designed to exfoliate the skin, work to decrease the appearance of dark spots, and fight against other pigmentation issues. It uses a unique formula for this. The formula relies heavily on its 2 most active ingredients – Polyhydroxy Acid and Hydroquinone.
Here is the full list of ingredients found in this skin lightener:
10% Polyhydroxy Acids
2% Hydroquinone
5% Gluconolactone
5% Lactobionic Acid
3% Kojic Acid
This product does not contain oil, fragrances, parabens, or paba. Most bottles of NeoStrata HQ are 1 ounce and have a pH of 3.8. This cosmetic works best on dark spots, freckles, age spots, liver spots, old acne scars, and other similar skin flaws. It also works well on hyperpigmentation spots that form during pregnancy.
Customer Reviews of NeoStrata HQ Skin Lightening Gel
Overall, the majority of the customer reviews we found online for this product were generally positive. On most sites the gel managed to score a rating of 4 to 5 stars out of 5 which is pretty impressive. Those that rated it a 3 or lower noted that they didn't like that it contained hydroquinone (a popular skin lightening agent with questionable risks). But most consumers said that the product worked great and isn't greasy like similar products.
Here are some of the reviews we found (click images to enlarge):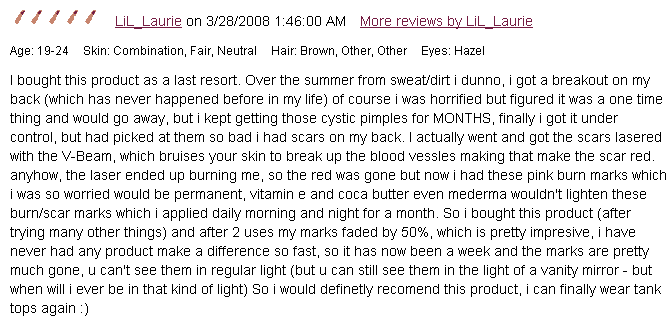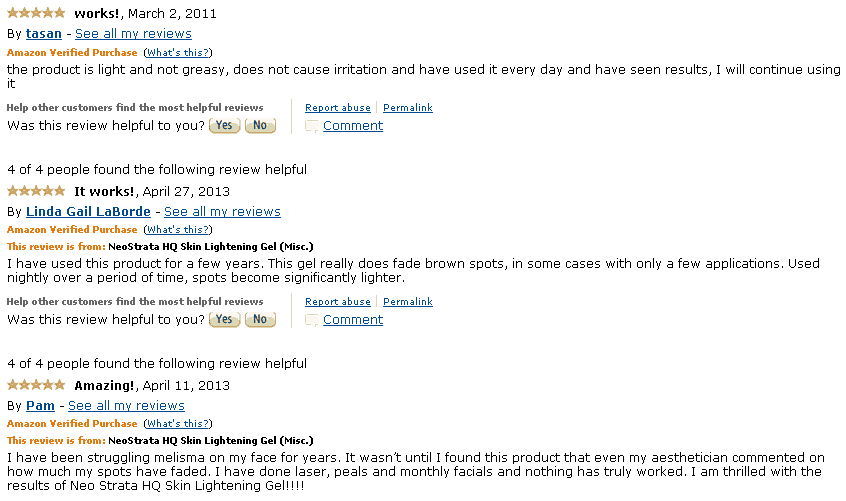 Our Review
While we don't usually recommend cosmetics that contain hydroquinone it can be said with confidence that NeoStrata's solution to skin lightening certainly works very well for getting rid of stubborn dark spots on the skin. If you're not sure about using a product with hydroquinone we recommend trying out Meladerm or SkinBright instead. But if you're fine with it, NeoStrata HQ definitely does the job.
Essentially this is a skin lightener that might be worth a shot to try if you're wanting to fade some blemishes on your skin. It's been proven to work exceptionally well. In most cases it takes 3 to 6 weeks to get full results but you'll start seeing noticeable differences in your skin in as little as 14 days of regular use.
Want to Try it Yourself?