Vaseline is a company known mostly for making several skin care products including lotions, body washes, and moisturizers. They do, however, make other beauty products such as the Vaseline Healthy White Skin Lightening Lotion with Active Whitening System.
This is a topical cream (similar to Olay's White Radiance or Skinception's Illuminatural 6i) that is designed to help lighten your skin, moisturize it, and keep it protected.
TO THE POINT: Vaseline's line of skin lightening products certainly aren't the best available (we prefer Meladerm) but they do work to an extent. CLICK HERE to check out the Healthy White line of products on Amazon, our preferred retailer for fast shipping and excellent customer service.
About the Product
Vaseline Healthy White is a somewhat affordable skin lightening lotion that is available in most grocery stores and pharmacies nationwide. It's formulated to whiten the darker areas of your skin, provide a deep moisture to promote healthy skin growth, and protect your skin from harmful UVA rays with its triple sunscreen.
Vaseline would have you believe that this product is capable of lightening your skin in as little as 14 days but, unfortunately, consumer evaluations and other studies have proven otherwise. The product does very little for lightening up any dark spots even when used for longer periods of time but it does make for a decent moisturizer due to its yogurt-based formula.

Vaseline Healthy White Customer Reviews
This particular skin lightener has received mostly mediocre reviews from actual consumers. Most people complain that the lotion does next to nothing in terms of whitening the skin but does work well as a moisturizer. Many individuals claim its biggest pro is the fact that it isn't greasy and that it smells great.
Here are some of the actual reviews found across the web: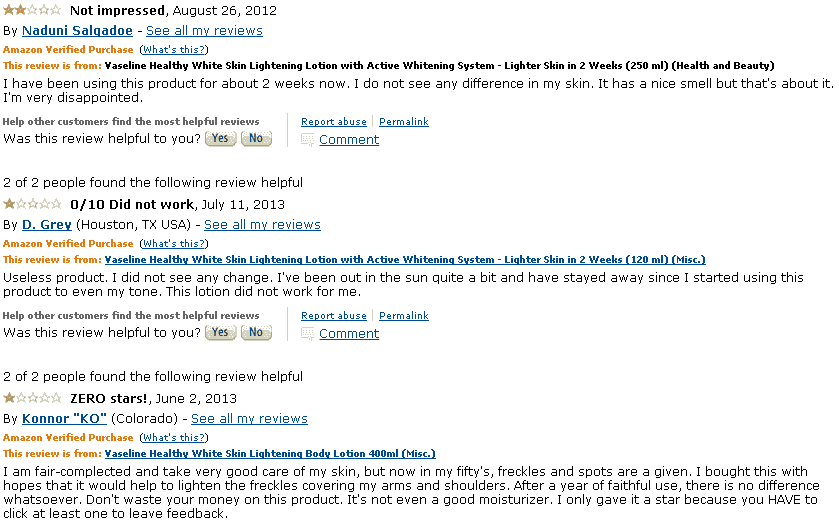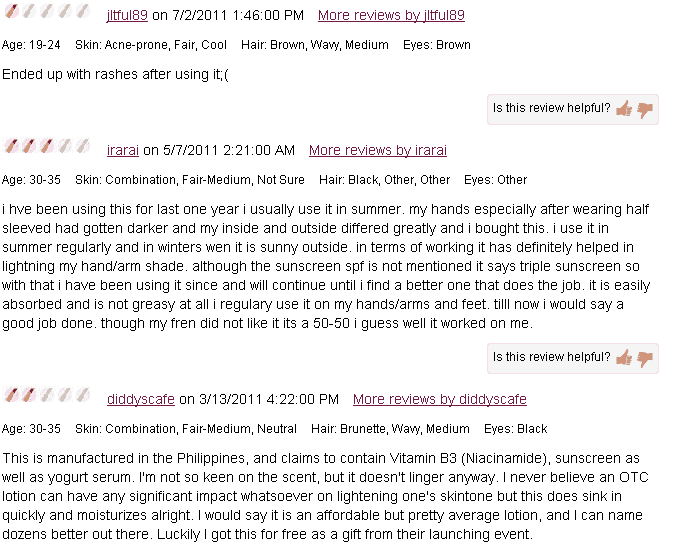 I wish I could really give this product more stars, but the reason I will put it at 2 is because the seller who I ordered this from (BoevyShop) ripped me off and I never got the product. They took my money and I was updated that the product would get to me within a month (supposed to get to me sometime in Oct.) since it was being shipped from overseas. I knew things shipping from overseas usually takes a while, but then Oct. came around and then Nov. and then Dec… and it never came.

Aside from that… I have used this product before in the past and it works well if you are willing to wait a while for results. It claims that it makes your skin lighter within 2 weeks and it really doesn't. I bought it to help even out and get rid of the mosquito bite scar spot (looks like hyperpigmentation/sunspot) that I had gotten when visiting family in the Philippines. For me it took all 3 bottles that I bought of this from Watsons and a good 4-5 months before I saw any results of the spots diminishing.

It is however a really good moisturizer and has a lovely smell, just takes a while for the results to kick in. But all products do anyways. (Myko Williams -Amazon Review)

Not seeing the results I thought would appear. Has been 2 weeks of use now. Sells good and good for my sensitive skin. Will try another brand in the future to see if results differ. (Tria – Amazon Review)
There are countless other evaluations on the web that reflect the same views of those above. Overall, this isn't a very useful product if you're looking for a working skin whitening cream. We highly recommended using a more qualified solution such as Civant Skin Care's Meladerm which is actually proven to work.
Our Review
Seeing so many awful reviews for the product is a huge put off for Vaseline's Healthy White lotion. Especially considering there are several accounts of people ending up with rashes after using it. This product might work for some people but in general it isn't great and is likely to disappoint you. For that reason we gave this cream a rather low rating.
Basically, this one isn't really worth your time. Price varies a bit depending on what bottle size you purchase and where you buy it from.
Want to Try it Yourself?